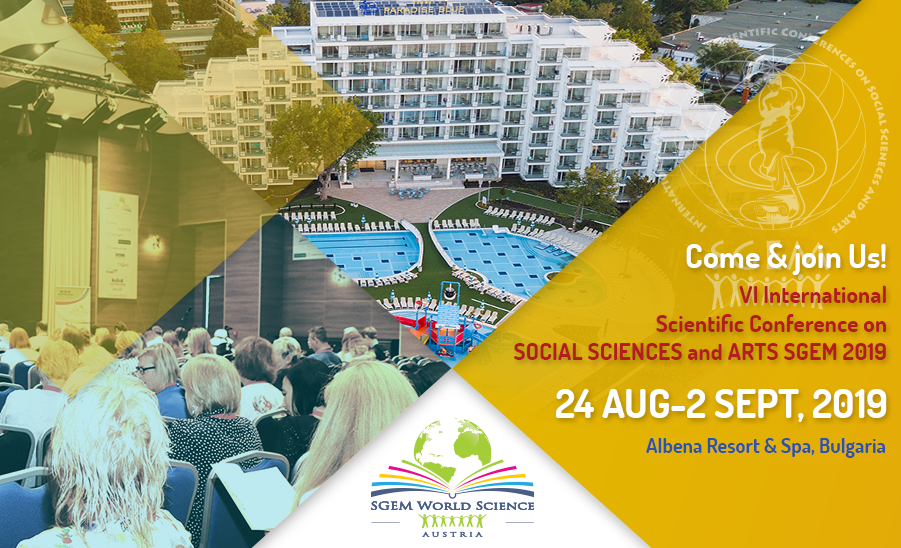 ---
The 6th extended Scientific Session of SGEM Conference on Social Sciences and Arts, will take place from 24 Aug to 02 Sept, 2019, at the biggest and most modern Bulgarian seaside resort and SPA Albena Complex, near Varna city, Bulgaria, in brand new 5 star, Hi-teched Congress Centre PARADISE BLUE. 
During the conference days of SGEM Vienna ART 2019 the brand new 5 star complex and Hi-teched Congress Centre Paradise Blue will become an epicentre of global interaction between world renowned scientists from more than 30 countries.
Their innovative works are devoted to such huge topics like Modern Sciences - Political Sciences, Law, Finance; Ancient Science - Archaeology, Philosophy, History; Cultural Studies - Ethnology and Folklore; Language & Linguistics, Literature & Poetry;  Art and Architecture - Performing and Visual Arts, Contemporary Arts, History of Arts, Architecture and Design. Every mentioned section consists of more than 10 subtopic themes (more info), which provides possibility for deeper and detailed learning of every subject.

More than 300 lecturers with academic status have a unique opportunity to exchange ideas on a basis of their cross-disciplinary interests related to Arts and Humanities.  Participants are welcome to choose between two main types of presentations: Оral or Poster.
Experts and senior scientists are welcome to prepare their proposals for an interactive Workshop Session, where concepts will be clearly demonstrated.The audience is to be actively involved in discussions. During Live Art Performances galleries and orchestras as well as musicians, poets and painters are invited to present their creativity and talents to the selected attendants
IMPACT FACTOR
All submitted papers are peer-reviewed, evaluated and if accepted published in a conference proceedings with ISSN and ISBN number /both digital and hard copy version/. Essential part of the SGEM Conference is the conference proceedings which is published before the event itself. Every participant receives a hard copy of the proceedings at the venue of the conference on the day of his registration.
The conference proceedings are submitted for evaluation and indexation in the biggest scientific databases: Web of Science, ELSEVIER Products, Medneley, CrossRef (SGEM is a voting member and a registered publisher), ProQuest, EBSCO, Mendeley, Google Scholar,  many notable libraries as the British Library and other scientific institutions which boost the conference strong scientific impact.
ORGANIZERS and COMMITTEE
The SGEM Conference on Social Sciences and Arts is successfully supported by more than 20 Academies of Sciences and Arts from European and CIS countries.
---
> APPLY FOR ACCREDITATION by filling in this form
---
PARTICIPATION FORMS

CONFERENCE DEADLINES

CALL FOR PAPERS - 17 June, 2019

CALL FOR WORKSHOPS -  10 July, 2019

CALL FOR PERFORMANCES - 10 July, 2019

CALL FOR FULL PAPERS - 10 July, 2019

CALL FOR EXIBITIONS - 10 July, 2019

PAYMENT DEADLINE - 19July, 2019

 
 

CONTACT DETAILS

CONFERENCE VENUE

 

URL: https://www.sgemsocial.org
E-mail: This email address is being protected from spambots. You need JavaScript enabled to view it.
Phone: +43 676 3709 478
Phone: +359 2 4051845


 

24 AUG-2 SEPT, 2019

Paradise Blue 5star, Congress Center

Albena Resort & Spa, Bulgaria

facebook /  twitter /  linkedin