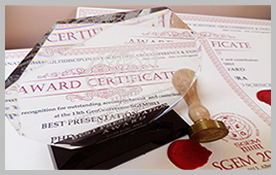 Every year, during an Official Award Ceremony, all speakers (Lecturer, PhD Student, Workshops or Invited Session Speakers) receive a Certificate of Attendance given personally by one of the Scientific Chairmen of the conference. Best presenters are being awarded with special CRYSTAL AWARD and CERTIFICATE!
 SGEM CERTIFICATE AWARDS on SOCIAL SCIENCES & ARTS
During all these 7 days the audience is encouraged to give its vote to the best presentations by filling a respective nomination form. At the same time, session chairmen have the hard task to evaluate each presentation - they fill in another evaluation form and forward it to the Scientific Chairmen. As a final result, authors of the highly evaluated and most nominated presentations are awarded with a AWARD CERTIFICATE and a SPECIAL CRYSTAL PLAQUE.
We are happy that during the sessions we have had such interesting papers, high quality presentations, discussants who really discussed the papers, and lively and active participation from the floor. Thank you to all of you who have participated at everyday sessions and have made nominations of the presentations and most of all we would like to thanks to the session chairmen who gave us a detailed and helpful information about the sessions carrying out.


Thank you once again to all authors and participants at SGEM2015 Conferences on SOCIAL SCIENCES & ARTS .Congratulations to all winners! We wish such and even higher success to all participants for the next year event - SGEM2017. 

LOOKING FORWARD TO  RECEIVING YOUR NEW RESEARCHES AND GREATER PRESENTATIONS!

BEST PRESENTATION AWARDS,  International Scientific Conferences on SOCIAL SCIENCES & ARTS SGEM2016 were given to:
PSYCHOLOGY AND PSYCHIATRY
PHD     DALIBOR     KUCERA, JIHOCESKA UNIVERZITA V CESKYCH BUDEJOVICICH, CZECH REPUBLIC
ASSOC.PROF.    SILVIA    ANGELONI,   UNIVERSITY OF MOLISE    ITALY
SOCIOLOGY AND HEALTHCARE    
PHD     CRISTINA     IULIA GHENU, BUCHAREST UNIVERSITY OF ECONOMIC STUDIES, ROMANIA    
PHD     SIRMA     TOMOS    OVIDIUS, UNIVERSITY OF CONSTANTA, ROMANIA
EDUCATION AND EDUCATIONAL RESEARCH    
Prof. ALTA     VAN DER MERWE, UNIVERSITY OF PRETORIA LYNNWOOD, SOUTH AFRICA  
Dr. JEFFREY     BRYMER- BASHORE, THE OHIO STATE UNIVERSITY - DEPARTMENT OF TEACHING AND LEARNING - INTERNATIONAL DATA EVALUATION CENTER, UNITED STATES OF AMERICA    
PROF     ANDREA     KARPATI    ,CONSTANTINE THE PHILOSOPHER UNIVERSITY IN NITRA, SLOVAKIA    
PHD     MILANA     ABBASOVA,KHAZAR UNIVERSITY ENGLISH LANGUAGE AND LITERATURE DEPARTMENT, AZERBAIJAN    
ASSOC.PROF.     LAURA     CISMARU,TRANSILVANIA UNIVERSITY OF BRASOV, ROMANIA    
ASSOC.PROF.DSC     OLGA     ALMABEKOVA    ,SIBERIAN FEDERAL UNIVERSITY, RUSSIA    

POLITICAL SCIENCES
PHD BARTOSZ     PLOTKA, UNIWERSYTET MIKOLAJA KOPERNIKA, POLAND
PROF     OLGA      BORODKINA,SAINT PETERSBURG STATE UNIVERSITY, RUSSIA
ASSOC.PROF.     ZDENEK     KRIZ, FSS  MASARYK UNIVERSITY, CZECH REPUBLIC
LAW
MGR.     RADKA    LANKASOVA, UNIVERSITY OF ECONOMICS PRAGUE, CZECH REPUBLIC
ASSIST.PROF. SONJA  CINDORI, FACULTY OF LAW UNIVERSITY OF ZAGREB, CROATIA
ASSIST.PROF.  HELGA  SPADIN, UNIVERSITY OF OSIJEK, CROATIA
FINANCE
DR. HAB.     JANUSZ     MORAJDA, UNIWERSYTET EKONOMICZNY W KRAKOWIE, POLAND
ECONOMICS AND TOURISM
ING      TEREZA     PILAROVA, CZECH UNIVERSITY OF LIFE SCIENCES PRAGUE, CZECH REPUBLIC
PROF     IRINA     VLADIMIROVNA BASKAKOV, URAL FEDERAL UNIVERSITY NAMED AFTER THE FIRST PRESIDENT OF RUSSIA B.N.YELTSIN, RUSSIA
PHD     EVA     SVANDOVA,MASARYK UNIVERSITY, CZECH REPUBLIC
ASSOC.PROF.DSC     VITO     TELESCA    ,UNIVERSITY OF BASILICATA,  ITALY
PHD     VERONIKA     HEDIJA    ,COLLEGE OF POLYTECHNIC JIHLAVA,  CZECH REPUBLIC
HISTORY
PHD     IONEL     BOAMFA, ALEXANDRU IOAN CUZA UNIVERSITY, ROMANIA
PHD     NICKOLAY     PARKHITKO, PEOPLES FRIENDSHIP UNIVERSITY OF RUSSIA, RUSSIA
PHILOSOPHY    
ASSOC.PROF.     ANTON     SUKHOV    ,URAL FEDERAL UNIVERSITY NAMED AFTER THE FIRST PRESIDENT OF RUSSIA B. N. YELTSIN, RUSSIA    
ASSOC.PROF.     VINICIO     BUSACCHI, UNIVERSITY OF CAGLIARI, ITALY
HISTORY OF ARTS
PROF     TATIANA     LASKA, SAINT PETERSBURG STATE UNIVERSITY, RUSSIA
CONTEMPORARY ARTS
PHD     STEFAN     TIMKO, CONSTANTINE THE PHILOSOPHER UNIVERSITY IN NITRA, SLOVAKIA
PERFORMING AND VISUAL ARTS
ASSIST. PROF.     ZANE     DAUDZINA, LATVIAN ACADEMY OF CULTURE  ,LATVIA
ARCHITECTURE AND DESIGN
PROF.DSC     SABINA     KUC, CRACOW UNIVERSITY OF TECHNOLOGY, POLAND
PROF.DSC     JERZY     USCINOWICZ    ,BIALYSTOK UNIVERSITY OF TECHNOLOGY,POLAND