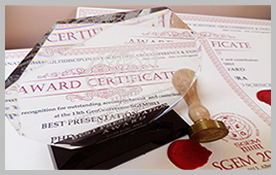 Every year, distinguished chairmen, who have been most active by asking questions, giving recommendations and involving the audience in discussions are issued of official LETTERS of GRATITUDE. 
Dear Participants,
Following the days of hard work of the 5th edition of SGEM Conference on Social Sciences and Arts it is the most pleasant duty of the Programme Committee to announce the SGEM awards for our outstanding participants.
The BEST SPEAKER award is comprised of a Crystal Plaque and an Award Certificate. It is proudly presented to the speakers who scored highest score in chairmen evaluations and got the greatest number of nominations from the audience.
MOST ACTIVE PARTICIPANT Certificate is given to those of our participants who have been with SGEM Conference on Social Sciences and Arts since its very first steps in 2014 and have contributed with their enthusiasm, active participation on site and not a few papers they have authored and published in the Conference Proceedings.
Thank you all!
SGEM Programme Committee
---
SGEM CERTIFICATE AWARDS 2018
 BEST PRESENTATION AWARDS, 5th International Multidisciplinary Scientific Conference SOCIAL SCIENCES & ARTS SGEM 2018
MSc. Natalia Ivkina - RUDN University, Russia
Prof. DSc. Mario Vinkovic - Faculty of Law, University of Osijek, Croatia
Prof. DSc. Linas Cekanavicius - Vilnius University, Lithuania
Assoc.Prof. Laura Elly Naghi - The Bucharest University of Economic Studies, Romania
PhD Gerda Mazlaveckiene - Lithuanian University of Educational Sciences, Lithuania
Prof. Avramescu Elena - University of Craiova, Romania
PhD Petra Fridrichova - Matej Bel University, Slovakia
Prof. Yulia Vertakova - Southwest State University, Russia
Prof. DSc. Elena Lazareva - Southern Federal University, Russia
PhD Laima Jeseviciute-Ufartiene - Vilnius Gediminas Technical University, Lithuania
Prof. Baiba Rivza - Latvia University of Life Sciences and Technologies, Latvia
PhD Robert Huterski - Nicolaus Copernicus University in Torun, Poland
MSc. Sanja Zlatic- University North, Croatia
Prof. Jure Margeta - University of Split Faculty of Civil Engineering Architecture and Geodesy, Croatia
MSc. Tomas Vasek - Faculty Of Military Health Sciences University Of Defence, Czech Republic
Assist. Prof. Alexandar Racz - University of Applied Health Sciences, Croatia
Mrs Olga Kissova - Zilinska univerzita v Ziline, Slovakia
Prof. Ioannis Makedos - City Unity College in Affiliation with Cardiff Metropolitan University, Greece
Assist. Prof. Ligiana Petre - University of Bucharest, Romania
Prof. DSc Oleg Redkin - Saint Petersburg State University, Russia
Mrs. Olga Akimova - Moscow State University, Russia
Prof. DSc. Vera Zabotkina - Russian State University for the Humanities, Russia
PhD Diana Stoica - University POLITECHNICA of Bucharest,Romania
Assoc. Prof. Vasiliy Fedorov - Chelyabinsk State University, Russia
PhD Pawel Pach - Wroclaw University of Science and Technology, Poland
PhD Anna Lower - Wroclaw University of Science and Technology, Poland
Assist. Prof. Wojciech Wojcikowsk - Cracow University of Technology, Poland
PhD Matej Vojtek - Constantine The Philosopher University in Nitra, Slovakia
Miss Margherita Tufarelli - Universita degli Studi di Firenze, Italy
Assoc. Prof. Diana Tutica -  Politehnica University of Bucharest, Romania
PhD Oksana Landiak - Kharkiv State Academy of Culture, Ukraina
PhD Mihaela Rusu - National University of Arts George Enescu, Romania
PhD Evita Badina - Daugavpils University, Latvia
Assist. Prof. Anna Karnat - Pedagogical University of Cracow, Poland
Assoc. Prof. Gabriela E. Dima - Alexandru Ioan Cuza University, Romania
Prof. DSc. Zuzana Stanislavova - University of Presov in Presov, Slovakia
PhD Olga Valikova - Peoples' Friendship University of Russia (RUDN University), Russia