General Conference Schedule
For the 6th issue of the International Conference on SOCIAL Sciences & ARTS SGEM2019 we have planned very attractive events and trip arrangements.
Two days for participants' registrations and accommodations - 24-25 August, 2019;
SGEM2018 will be a seven-day scientific event - 26 August - 1 September August, 2019.
Morning/Afternoon Plenary oral and poster sessions will be conducted simultaneously in 3 conference halls. Workshop presentations will be arranged in respect to the general conference programme;
Social activities: welcoming receptions, folklore dinner, 2 awarding ceremony and receptions.
Pre-conference Field trip - 25 August, 2019
Post-conference Field-trip - 2 September, 2019 - both one-day bus trip - complimentary trip for all registered participants.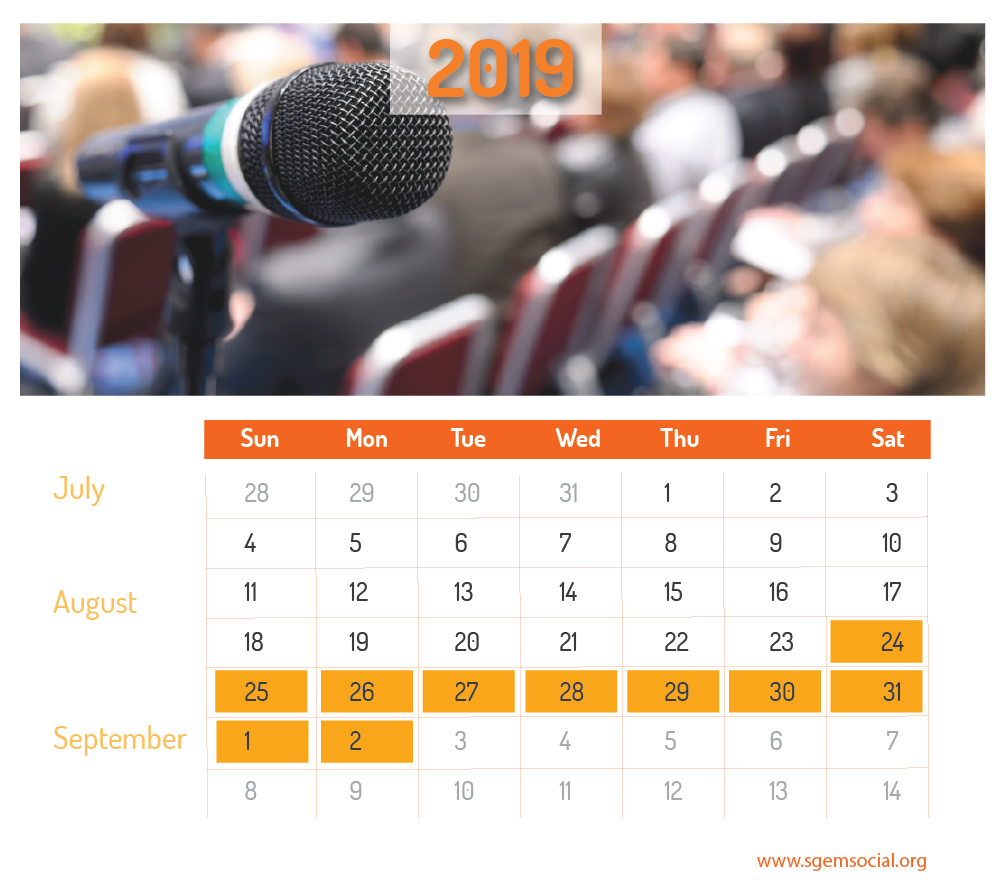 PRELIMINARY CONFERENCE PROGRAMME

Remark: Please note that this program is subject to change!
We kindly ask each speaker to keep the exact day and time of his presentation in regard to the plenary programme!
Last updated: 01 May, 2019
| | | | | | | | |
| --- | --- | --- | --- | --- | --- | --- | --- |
| TOPICS & SECTIONS | DAY 1/26 Aug, 2019 | DAY 2/27 Aug, 2019 | DAY 3/28 Aug, 2019 | DAY 4/29 Aug, 2019 | DAY 5/30 Aug, 2019 | DAY 6/31 Aug, 2019 | DAY 7/01 Sep, 2019 |
| Topic 1. MODERN SCIENCE | PLENARY SESSIONS | PLENARY SESSIONS | PLENARY SESSIONS |   |   |   |   |
| Topic 2. ANCIENT SCIENCE |   | PLENARY SESSIONS | PLENARY SESSIONS | PLENARY SESSIONS |   |   |   |
| Topic 3. SCIENCE & SOCIETY |   | PLENARY SESSIONS | PLENARY SESSIONS | PLENARY SESSIONS |   |   |   |
| CERTIFICATE AWARDING CEREMONY for all papers from topics 1. 2. and 3. |   |   |   | AWARDING CEREMONY |   |   |   |
| Topic 4. SCIENCE & HUMANITIES |   |   |   | PLENARY SESSIONS | PLENARY SESSIONS | PLENARY SESSIONS |   |
| Topic 5. URBAN PLANNING, ARCHITECTURE & DESIGN |   |   |   | PLENARY SESSIONS | PLENARY SESSIONS | PLENARY SESSIONS | PLENARY SESSIONS |
| Topic 6. SCIENCE & ARTS |   |   |   |   | PLENARY SESSIONS | PLENARY SESSIONS | PLENARY SESSIONS |
| CERTIFICATE AWARDING CEREMONY for all papers from topics 3. 4. and 5. |   |   |   |   |   |   | AWARDING CEREMONY |